The Saint Joseph River Valley Fly Fishers are hosting a flytying class in Elkhart, and have openings available.
TERRESTRIAL FLY TYING CLASS WITH GLENN WEISNER
FEBRUARY 16, 2013– ELKHART CONSERVATION CLUB (MAIN BUILDING)
9:00 a.m – 4:00 p.m.
$50.00 PER PERSON – LUNCH AND SOFT DRINKS INCLUDED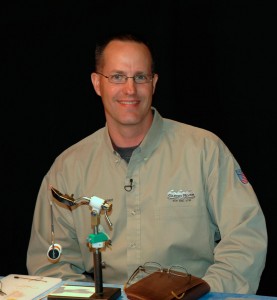 Glenn hails from Toledo, Ohio and is the owner of Glenn River Fly Co. He was the speaker at our March 2012 meeting and his program was on Terrestrial insects for the fly fisher. We will be tying 5 – 7 terrestrial patterns that you will be able to use in our area for trout, bass, and panfish.
Class participants are expected to have basic tying skills as this will be an intermediate skill level class. You will need to bring heavy and light tying threads in several colors, vise, tying tools and a light. The tying materials will be provided.
The class size will be limited to 20 fly tyers. If you are interested in taking the class please email Eric Wroblewski or call 574-850-5441.
If you would like more info about Glenn please visit his website.